Carn Dearg (Newtonmore), Carn Sgulain & A'Chailleach
Maps 35 & 402; 19th Nov 2005 & 24th Jul 2008
Route: Ascent 1055m = 3500', 16 miles; 7hrs
---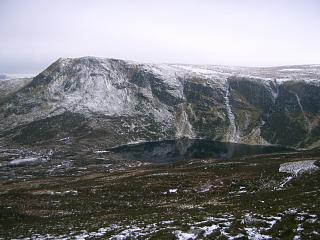 Access: From A9 N, take turn off for Newtonmore, join A86, then go immediately left up the hill (Old Glen Road) and bear left onto Glen Road, or take second left (Glen Road), and continue to Glen Banchor. Park after 1.75 miles at the end of the road, NH691998.
Route: Carn Dearg can be ascended by going either side of, or over, Carn Macoul. The route via Loch Dubh may be a little more scenic but is slightly longer.
All the paths are wet and boggy. Navigation is easy in cloud: the route just follows the boundary fence posts between Carn Ban and Carn Sgulain.
Weather 19/11/05: Cold; full cloud cover, cloud base 3000' & falling; dry; E wind veering to SW; –4°C at start, rising to +2°C at end. 24/07/08: Dull & windy, but warm & dry.
Terrain 19/11/05: Tracks OK, but paths all very poor – extremely wet & terribly boggy. Much improved by being frozen, but then paths all slippery with large ice patches. 24/07/08: Tracks OK, but paths still wet & boggy even after 4+ days of hot, dry weather.
19/11/05
24/07/08
Description
Alt.
Asc.
Dist.
Grid Ref.
Mob.
0845
0950
Park in Glen Banchor at end of road
300
0
0.0 miles
NN69279976
Orange
0900
1005
Track W by R. Calder to Glenballoch
320
20
1.0 miles
NN67989927
0935
1045
Poor, boggy path SW/W from SW corner of
Glenballoch to straight-forward ford near Dalballoch
350
50
2.5 miles
NN65939866
1045
–
EITHER:
Path up Gleann Lochain to just SE of L. Dubh.
(A new track goes up conveniently to E of loch.)
645
345
5.2 miles
NH63300110
1050
–
Leave track & head due E to ridge.
770
5.6 miles
NH63900110
–
1115
OR: Animal track 1.2 miles NNW up Gleann Ballach
–
1155
Over rough moor NW to col N of Carn Macoul
(An ascent of Carn Macoul is possible.)
725
425
NH63950087
1120
1220
THEN: N up ridge to T Carn Dearg S Top
923
625
6.0 miles
NH63760176
Orange
N to col
905
NH63630209
1130
1230
N to M Carn Dearg
945
665
6.4 miles
NH63550240
Orange
NNW to col
885
NH63280267
1150
1245
N to T Carn Ban (Carn Mairg) From here
to Carn Sgulain, follow boundary fence posts.
942
725
6.95 miles
NH63170313
Orange
1210
1300
NE to col just E of Lochan Uisge
875
7.5 miles
NH63640387
1225
1315
NE to T Carn Ballach SW Top
920
770
8.1 miles
NH64350449
No Orange
1235
-1240
NE to X Carn Ballach NE Top
920
780
NH64780477
1315,
1320,
1325
-1330
NE along ups and downs following fence posts to the
3 tops of Meall na Creughaich around a small lochan
900
8.95 miles
NH65230542
1345
ENE to minor bump at boundary bend
905
815
NH65680563
E to col
875
9.5 miles
NH66060551
1310
1355
E to Meall a' Bhothain
911
850
9.7 miles
NH66370565
1325
1410
E to col. (Beware of treacherous peat bog here)
850
10.25 miles
NH67130565
1335
1420
E to minor top
908
910
NH67650565
Orange
E to shallow col
890
NH67990563
1400
1430
ENE to M Carn Sgulain
Small cairn first, then main cairn after 50yds.
920
940
11.1 miles
NH68380586
Orange
1430
1500
Return WSW almost to minor top, then follow straight
line S over extensive very wet peat bog to pass.
(Head directly towards the top of A'Chailleach.
Don't bother to seek out the highest pt of the pass.)
815
11.9 miles
NH67800477
1445
-1455
1510
-1520
S to M A'Chailleach
930
1055
12.35 miles
NH68120416
1535
1550
Initially WSW down ridge then, after 300 yds,
SE down path to house.
(The path heads directly towards the track end.)
525
14.05 miles
NH68800230
1550
1550
SE to cross Allt a'Chaorainn at 500m
500
14.5 miles
NH69250185
1600
1605
-1625
S to track end by Allt a'Chaorainn
480
14.8 miles
NH69150135
1620
1645
S down track to P at road end in Glen Banchor.
310
1055
15.95 miles
NN69279976
Orange
---