Buachaille Etive Mor, Map 384; 3rd June 2006
Route: 760m = 2500' ascent; 3⅓ miles; 3⅓ hrs
---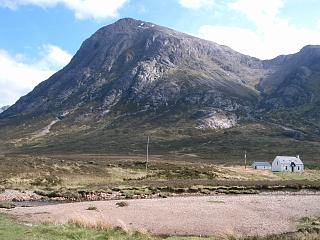 Route: This web page is just for providing an outline of the Curved Ridge route up Buachaille Etive Mor. My usual route over Buachaille Etive Mor including Buachaille Etive Beag is given here.
Access: Park on the A82 at Altnfeadh (NN221563) or take the track from there towards Lagangarbh Hut and go as far as possible for best parking. There is some parking off the track just a few yards short of the bridge.
The Curved Ridge: There are many alternative routes up the "Buckle" but the Curved Ridge up the NE face is arguably the most enjoyable if you have any head for heights. It is rather more interesting as it gives as quick access as any to the summit and is a straightforward, easy scramble. If you're happy to look outwards, there are also great views across Rannoch Moor.
Scotclimb.org.uk provides a short description of the route. There are also many YouTube videos of ascents. Among these, this one provides some coverage of exactly where to go, shows the good quality of the rock and moves, and gives a good idea of the steepness and level of exposure.
The route starts with taking the left fork after the bridge at Lagangarbh and heading for the Water Slab which is 30-35 mins from the car park, 200 yds after Lagangarbh disappears round the bend behind. Turn right at Waterslide Slab and follow a small path sharply uphill, zig-zagging up rocks and scree for 150m. This path leads to the base of Curved Ridge which is below and left of the Rannoch Wall. Then, for route finding to the summit, just follow the scratches on rocks which should be visible in dry weather. The return by the tourist route gives a walk that can be completed easily in a morning or afternoon.
---