Aonach Eagach: Meall Dearg & Sgorr nam Fiannaidh, Map 384;
25th Nov 2004 & 11th Jun 2007
Route: 6.1 miles; 1295m=4250' ascent; 5-6 hrs in reasonable conditions.
---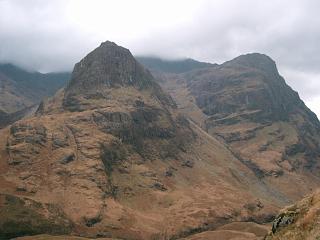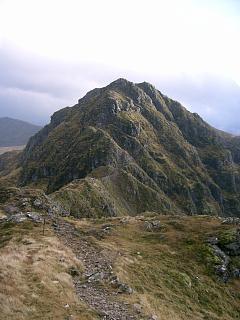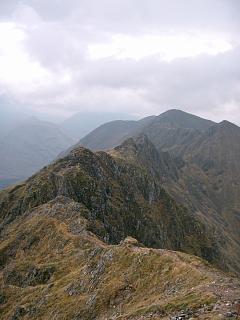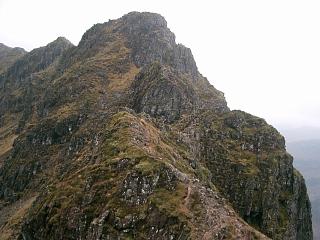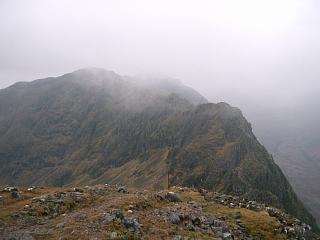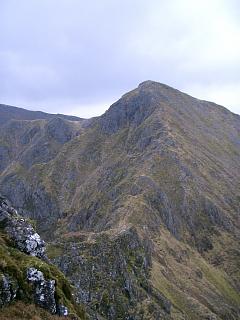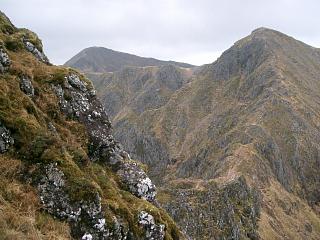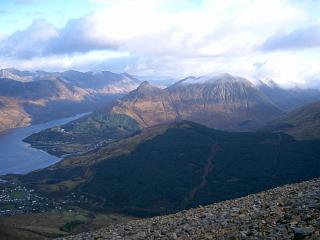 Route: The ridge is very much easier and more enjoyable in dry conditions. It involves some straightforward scrambling with intimidating exposure with much of the rock en route being highly polished and slippery strata sloping downhill. Both Munros can be climbed separately from the north to avoid any scrambling. There are some nice winter photos and more detail at UKClimbing.com.
If you can manage the initial descent from Am Bodach, you can probably manage the whole ridge. This is not quite the most difficult or exposed part, but it doesn't get much worse. Almost all difficulties are between Meall Dearg and Stob Coire Leith, which is Aonach Eagach. The difficulties are a combination of exposure, knife edge ridge with numerous unavoidable pinnacles, poorly angled, slippery rock with few handholds, and moss. There are two big detours off the ridge to the north side, the second is at the W end and descends by nearly 100'. Overall it is technically harder, more exposed, and longer than any other ridge that you are likely to encounter doing Munros or Munro Tops on mainland Scotland. This includes, for example, the Torridon ridges. This short section of about ¾ mile will take most people at least an hour in good conditions and an hour and a half in poor non-winter conditions.
An alternative descent is via the col with the Pap (Sgorr na Ciche). The gully above the Clachaig Inn is possible but dangerous. My suggestion is little used, but very fast and handy with no significant problems – it's just steep with loose scree and very long. It also minimises a walk back to the start.
Weather 25/11/04: Overcast but dry till 1400; rain thereafter. Cloud falling from 1000m to 750m.
11/06/07: Very hot day: 25°C at car, no wind. Dry, overcast day with sunny intervals, dry underfoot.
Connectivity: Orange on all tops and on road at ends of route.
25/11/04
11/06/07
Description
Alt.
Asc.
Dist
Grid Ref
0930
Park on A82 at P just E of L. Achriochtan
(or Park at Helipad on A82 near Meeting of Three Waters)
90
0
0.0 miles
NN14645713
1000
0910
Walk E to Helipad using path on S side of A82 along old road
163
75
1.5 miles
NN16935684
1005
0915
Reach start of good path up Allt Ruigh at
small P on N side of A82 a few yds E of the Helipad
175
85
1.75 miles
NN17315677
1115
-1125
–
Ascend old route by Allt Ruigh to col NE of
Am Bodach or take the new faster path up the SE ridge.
816
725
NN17205820
1140
1030
-1035
SW (or NW) to T Am Bodach.
943
855
2.75 miles
NN16845802
1045
Initially tricky descent NW to col.
(No further major difficulties until after Meall Dearg.)
866
NN16615812
1050
WNW to cairn on bump
924
840
3.1 miles
NN16315821
1055
NW to col
896
3.15 miles
NN16265826
1215
1100
-1105
NNW to M Meall Dearg
The next ¾ mile is the Aonach Eagach ridge.
Expect ¾ mph in dry conditions, ½ mph in wet, i.e. up to
1.5 hrs. This section contains almost all the difficulties.
953
970
3.25 miles
NN16155837
1115
W to 1st pinnacle
1125
W to 2nd pinnacle
1130
W to col
1140
Skirt 3rd pinnacle on right, & optionally backtrack to top
1155
W to col
830
3.8 miles
NN15255832
1345
1205
-1210
NW to T Stob Coire Leith
940
1185
4.0 miles
NN14955850
1215,
1220
SW to cols at ends of flat ridge traverse
870
4.4 miles
NN14425825
1410
1230
-1235
W to M Sgor nam Fiannaidh (trig post)
967
1295
4.6 miles
NN14065830
W for 10 yds to top of path. Then descend S down path
by Allt an t-Sidhein. Initially there is 1500' of scree. The
path meets A82 by road to Clachaig Inn NN138567
but the corner can be cut off easily.
5.7 miles
NN14045685
1535
1355
E along A82 to P just E of L. Achriochtan
90
6.1 miles
NN14645713
---