Beinn Dearg, Cona' Mheall & Am Faochagach, Map 20; 6th September 2004
Route: 1505m = 4940' ascent; 13.5 miles; 7hr 40mins.
---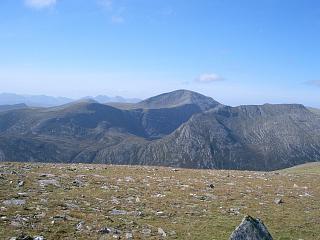 Evaluation: 4 star.
Route: This strange collection of hills remained after I had bagged Seana Bhraigh on a previous occasion. However, it makes sense for the scenery on the east side of Beinn Dearg. It includes fine views into Choire Ghranda from the south ridge of Beinn Dearg, a very pleasant visit to Loch Prille, and views of the magnificent cliffs above Loch a' Choire Ghranda from Am Faochagach.
There is a useful stretch of stalkers' path shown on the 1:25000 OS map west of Loch a' Gharbhrain. If the Allt a' Gharbhrain is in spate, continue NW to about 440m (NH25387887) and ascend Beinn Dearg via the Allt Beinn Dearg. If the Abhainn a'Gharbhrain is in spate, cross it safely 150m S from Loch a'Gharbhrain by a reed bed, NH2818075557 (GPS). Here the river bed pebbles are much smaller and not slippery, the river is much wider and of a more consistent depth, and there are no concentrations of flow at any point, making it a safe point to cross. Even after prolonged heavy rain, I have waded across without any problem with water at most knee deep but, of course, wet feet are the result.
Sticks useful for descending the first steep 100m from Cona' Mheall and for fording the Allt a' Gharbhrain and the Abhainn a' Gharbhrain. The main downsides to this walk are the very boggy path between the road and the Abhainn a' Gharbhrain, and fording that river.
0825
Park by former weather station on A835 at
NW end of Loch Glascarnoch NH277744
270
0
0.0 miles
NH27657428
From opposite side of A835, take very boggy
path NW/N towards L. a' Gharbhrain.
Continue up W side of the loch then by
Allt a' Gharbhrain to stream from right.
380
110
2.6 miles
NH26437787
Ascend burn NE towards L. nan Eilean,
then NNW up ridge to plateau.
805
535
3.67 miles
NH26357942
Skirt pt 885 on left
885
615
4.05 miles
NH26707996
1030
N to col
825
4.25 miles
NH26598027
1110
N/NW/W up nice ridge to M Beinn Dearg
1084
875
5.05 miles
NH25948120
1140
Go due N from summit cairn to intersect
path down at dike. Descend NE by path
on NW side of dike to lochan on bealach
855
5.5 miles
NH26328182
1145
Take path contouring round S of 886m lump
E to bealach
815
875
5.85 miles
NH26888178
1205
Path ESE up to M Cona' Mheall (980)
978
1040
6.25 miles
NH27498166
1310
NNE to corner of plateau, then steep descent
E down cliffs to Loch Prille. (It may be easier
leaving summit ridge 100m S of summit)
545
7.13 miles
NH28788156
1410
Straightforward ford of loch exit stream
then ascend SE/S to Meallan Ban (large cairn)
882
1380
8.37 miles
NH29838009
1425
Continue SSE up to M Am Faochagach
(boring except for view)
954
1475
8.9 miles
NH30367939
1445
Descend SW/S to cairn
845
1500
9.8 miles
NH29987807
Continue SW to col
710
10.9 miles
NH30367701
1545
Descend path to the river ford at NH28137531 or
veer over to L. a'Gharbhrain and ford its outflow.
The latter is safer, flat, shallow and easy.
275
12.1 miles
NH28187554
1605
Boggy path S to car park on A835 at bridge.
270
1505
13.05 miles
NH27657428
---